You are currently on the:
CMHA National
Visit our provincial websites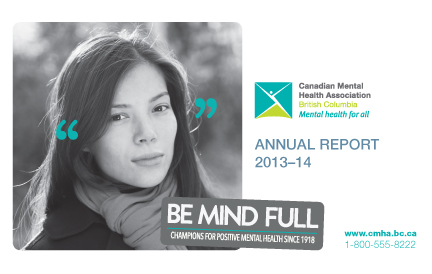 Annual Reports
Each year, CMHA produces an annual report that outlines the year's events, activities, achievements and challenges, as well as the outlook for the future. These reports are a great way to learn more about us and how we are making a difference.
ANNUAL REPORTS
FINANCIAL REPORTS & AUDITOR LETTERS
Number of Employees whose salaries fall within the following ranges.
$1 – $39,000 = 7
$40,000 – $79,000 = 15
$80,000 – $119,999 = 2
$120,000 – $149.999 =
$150,000 – $189,999 =
$190,000 – $229,999 =
$230,000 – $269,999 =
$270,000 – $309,999 =
$310,000 – $349,999 =
$350,000 + =
Registered Charity Information Return – T3010 Form